Merv Edmunds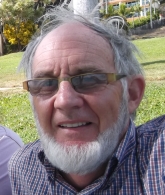 Merv is a teacher, trainer and therapist. Graduating from MindFields College in December 2007, he became the first Australian to hold a Human Givens Diploma. In 2003, Merv incorporated his HG ideas into an innovative curriculum project that later won an award from the Australian National Training Authority. In a teaching career spanning more than thirty years, Merv has enabled hundreds of young people to discard limiting beliefs and experience remarkable success. Working primarily with under-achievers and early school-leavers, Merv inspired them to develop marketable skills to fund their overseas and interstate travel. Activities that confirm the human potential from needs being met and resources used appropriately.
Merv promotes the human givens approach in Australia by presenting at conferences, training days, and through his busy schedule of one-day introductory seminars for health pofessionals.
Merv brings to the therapy setting all the benefits of a life well lived. He has worked on building sites; in factories; in schools; and business settings. He has built two sports cars, a yacht, an aeroplane, and has traveled extensively in outback Australia, Canada, the US, Britian and Europe. Merv's core values are based on Napoleon Hill's definition of wealth: family harmony, good work relations, quality friendships, and spiritual peace. He lives with his wife and companion of over forty years, Robyn, and they have two adult sons. He describes his current role as a 'non-practising retiree', dividing his time between pro-bono therapy, speaking engagements and coordination of the online certificate course for professional associations.
Merv's CV
---
The "human givens" explained
---
Why humans dream
---
The Mind - new insights
---
Depression - new insights
---
Online Course now available
In collaboration with the Australian Association of Clinical Hypnotherapy & Psychotherapy (AACHP), Human Givens Australia is offering a Certificate Course in Applied Psychotherapy. See Online Course
Members of Professional Associations who have completed the Certificate of Applied Psychotherapy (Human Givens) are now available for consultation:
Linda Black, Wantirna VIC
Maureen Bracken, Ballina NSW
Belinda Hulstrom, Williamstown VIC
Simone Power, Frankston VIC
Christine Priestly, Suffolk Park NSW
Glenn Trigg, Emerald VIC
Julie Begg, Greensborough VIC
Dr Portia Reading, Dewhurst VIC
Christine Bell, Sandringham VIC
Andrea Lane, Warrnambool VIC
Vanessa Huacache, Caroline Springs VIC
Pamela Course, Melton South VIC
Caroline Kasputtis, Ashburton VIC
Nina Dewar, Brunswick VIC